Every Friday I hope to provide a review of a free or under $2.99 ebook in hopes of finding a proverbial "diamond in the rough!"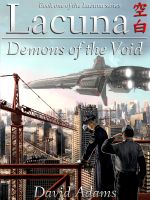 THE BOOK
Lacuna: Demons of the Void
by David Adams is a sci-fi military novel about an attack by aliens in an attempt to supress Earth's newest space-age technologies. It is also FREE right now on Smashwords.
WHY I PICKED IT UP
The summary takes a well used premise, but adds some mystique by using excellent writing. Plus, the wordcount here is substantial; this is obviously a full book we're getting.
WHERE/WHY I STOPPED
I read to the beginning of chapter three and I'm not bored yet (I just want to get this review up). Adams does a good job of generating interest by starting in medias res (literally–it's the prologue's title) and making us care by centering the narrative around the reactions of one character.
He continues with more characters (some more memorable than others) and a breif explanation of how his sci-fi technology works. The balance of real science and fake stuff is pretty good and the rules of his universe are made clear.
The scientist character even goes so far as to make reference to Star Wars, Star Trek, and X-Men. This works well here because it fits withtheir personality and so performs dual function as homage and characterization.
WHAT COULD BE BETTER, IF ANYTHING
The first few chapters skip in time a lot, which I consider to be a cheap ploy in literature, but it works and doesn't detract from the narrative. I found one single typo, so not too bad there. And my last bit of constructive criticism is the similes. They're a bit hit and miss and can be a tiny bit distracting.
All in all, these are small criticisms and the book is a good read; Adams clearly understands the rules of good storytelling (he names chapters after them).
RECOMMENDATION: READ
 If you're into sci-fi, this is one to pick up. It is the first in a series, but whether Adams is doing the usual ebook strategy of hooking them with the first and charging for the rest, a free 60,000+ word book is nothing to scoff at. Even for his amazon asking price of $5 it's a deal.