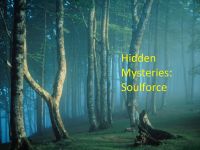 THE BOOK
Hidden Mysteries: Soulforce by Niki Stavrianopoulos is an epic fantasy novel (without a YA tag) featuring YA aged characters. The main character has some mysterious and interesting powers–a guardian spirit who shares her body, a shape shifting pet, a ghost for a freind, an arch enemy–so there's definintely a story to be told.
WHY I PICKED IT UP
It's actually a choose-your-own-price offer on Smashwords and was published today! So I always try to review new releases.
WHERE/WHY I STOPPED
A few pages into chapter 1 as the main character was readying for her birthday party and meeting her freind. For a girl with strange powers, our main character is pretty bland, and at the point in the story where I stopped, her freind–mentined in the blurb, referred to in the manuscript, and even partaking in a few lines of dialogue–seems even less interesting despite the effort the author put into making us aware of her existence.
In a nutshell, I stopped because I was uninvested. After a decent start with the prologue (in which the main character's powers and world are explored, and one character goes missing), the novel stalls in a Rebecca-Black-esqe description of the character's awakening and eating a bowl of cereal.  Boring.
WHAT COULD BE BETTER, IF ANYTHING
The author had a great beginning in the prologue, why ruin it with the boring story of a teen birthday party? It seems uneccessary, since the prologue established the characters, the powers, the world, and a conflict.
This isn't the author's only problem; Stavrianopoulos needs to spend more time in editing as spellcheck won't pick up homophones or absent commas.
The cover art and title need help, too.
RECOMMENDATION: DON'T READ
I was indifferent about this novel. Stavrianopoulos got lazy and published it before it was ready. For all its flaws, though it's not terrible. And the author's willingness to let the reader set the price tells of some humility.
So I suggest you see for yourself; the sample shows off an ample 20% of the manuscript, plenty enough for you to judge what you feel you should pay, or if you want to read it.
When you read it, post what you thought in the comments! Does the main character ever become interesting? Does the freind develop a personality? Does the author fix the typos?
Let me know!